The face of giving was held at Isoko North in Delta state. Nigeria on the 13th of December, 2022, this program is the 3rd edition, our founder decided to take charity home. it was celebrated with underprivileged women, widows and girls, the program started at exactly 10am with opening prayer by one of the participant present 
Three representative from the Queen of Ozoro Kingdom (HRM Queen Ogbogbo Ofejiro founder of achiever mission), other dignitaries present were Hon Ayodele Othihiwa, Youth leader of Isoko north community, SSA to the Delta state governor on community matters.
This program is to empower the underprivileged women and girls who struggles to make ends meet and to eradicate poverty and suffering in the community, this initiative was brought by the founder of THF which she was introduced in person of Amb Sally Othihiwa
Lagos-based non-governmental organization, Tender Hearts Foundation (THF), on Tuesday 13, December, 2022, through its "Face of Giving" programme, empowered over 200 widows, aged and indigent women in Oyede, Oleh and Owodokpokpo communities in Isoko South local government area of Delta State.
Presenting the empowerment items – 20 pepper grinding machines, over 100 wrappers and foodstuffs to the beneficiaries at Owodokpokpo, THF's founder, Lady Sally Othihiwa said, "The empowerment scheme is part of the foundation's sustainable social services to humanity, especially the underprivileged women and young girls, to mark this year's Face of Giving."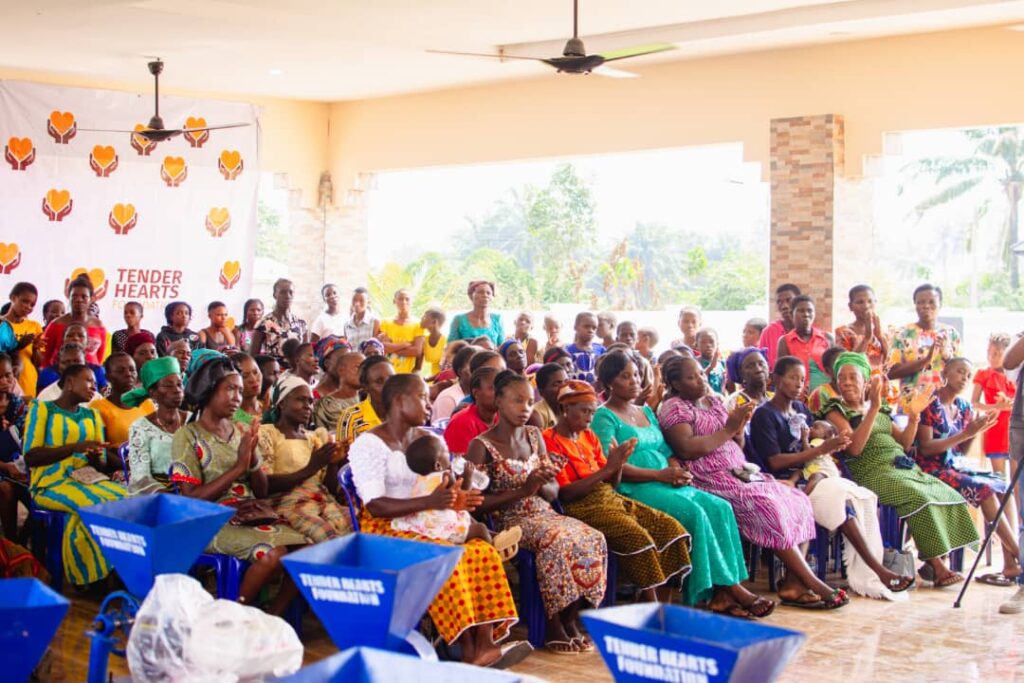 Continuing, Amb. S ally Othihiwa of Tender Hearts Foundation had been committed to improving the livelihood of less privileged women, saying, "Today's event is one of the positive ways we give succor to the needy, and contribute positively to the attainment of the United Nations Sustainable Development Goals 1 and 2, which seek sustainable solutions to end poverty and hunger in all forms by 2030."
She continued, "In line with the goals of our Foundation, we shall be having other phases of empowerment programmes to improve the livelihood of widows and other less privileged women in our society."
She added that the founding of Tender Hearts Foundation was inspired by her unquenchable zeal to make our society a better place for all. 
She said, "On that note,  our Foundation is working relentlessly to put a smile on the face of the needy with scores of impactful programmes we shall be executing in 2023".